As a Louis Dreyfus-Weidenfeld and Hoffmann scholar, I had the unique opportunity to visit Mukteshwar, a small town nestled in the hills of Uttarakhand, in Northern India. This, along with the surrounding villages, is the site for a collaboration between the Louis Dreyfus Foundation (LDF) and The Energy and Resources Institute (TERI). The project aims to bring together the twin aims of sustainable agriculture and food security by reviving traditional food crops which had be jettisoned for cash crops. The region has its own specific difficulties, by virtue of harsh geographical terrain and extreme weather conditions. In an area where all productivity comes to a standstill during the 4 months of winter, securing food supply and providing means of economic sustainability are the prime motives. A testament to the various difficulties faced by the farming community in India as well as the rest of the developing world, Mukteshwar presents a set of opportunities as well as challenges.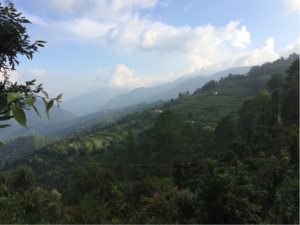 Day 1: Upon my arrival from Delhi, I set off on the first round of visits to the various field sites. I was accompanied by the project manager, Nidhi P. Chanana and field supervisors Preetam Gourh and Narayan Singh Mehta. This was quite helpful as I was provided three perspectives: one from the TERI management, one from the TERI field supervisors and one from the beneficiaries and their families. The two villages we visited were Pahadpani and Mahtoliya Sukta. Navigating the treacherous hilly paths to reach these sites was a bit of a personal challenge. This brought to mind the question of transportation and market access. Many of these paths were meant only for walking. So did the farmers lug their produce all the way up and down these roads, which completely shut down during snowfall? I was then told that the question of transporting produce did not arise very often as a lot of the farmers were producing enough only for self-consumption. For the few times that there is a surplus, transport costs are so exorbitant that they outweigh any profits from sale of produce in the market. However, the field supervisors pointed out an interesting pattern: if there was a particular village which would be included in this LDF project, it would soon follow that the state government made efforts to bring motorable roads to that village. This indicates that long term prospects for greater market access are improving, albeit gradually.
Beneficiary: Shri Buddhisagar
"I am so thankful that I am one of the beneficiaries of the programme. The seeds we got last year to grow rajma (kidney beans) and jowar (millets) have been better than what we used to have earlier. You can see that the height of the crop this year is much higher compared to earlier cycles. I hope I get more seeds in the next round of distribution."
I was taken to Mr. Buddhisagar's farm, where he gave us a very hospitable and detailed tour. I was also made aware of trials being run on some field sites to test if the barahnaja system, a traditional method of multiple cropping (12 different crops in one plot), was more productive than growing a single crop, or 4-5 crops. Initial results had showed that even though growing a lesser number of crops was better for productivity of the individual crops, overall soil health and food security for the farmer was better ensured with the barahnaja system.
Day 2: The next day started with visits to village Mahtoliya Sukta, followed by Satbhunga Kapua and Gajar. It was about a forty- minute walk downhill from the nearest motorable road to reach the first village. On our way, I was shown many sites where seed varieties and planting methods were being tested. Our first stop was Chandra Devi's house. A septuagenarian and a matriarch, she represented the repository of traditional knowledge that this project is trying to revive. In the past few decades, many of the traditional crops indigenous to the region, like kidney beans and various kinds of millets, have given way to commercial crops. This not only compromises on domestic food security and nutritional requirements but has also led to the fading away of age-old wisdom about cropping methods and agricultural techniques. Not only was her family growing these traditional crops but they were also part of the project's attempt to introduce commercially viable herbs like rosemary, thyme and lemongrass.
Beneficiary: Shrimati Chandra Devi
As we moved from one household to another, I saw different aspects of the project benefit different families. While one family had installed the solar passive greenhouse to continue to grow vegetable crops for consumption during winter months, another family could avoid water scarcity with the use of polythene-lined water tanks. In a region where agriculture is the major economic activity and access to water depends on monsoon, such interventions have helped the farmers to make use of solar energy and rainwater harvesting for better and sustained yield.
Beneficiary: Shri Bhopal Singh Bisht
"Water has always been a problem here as rains are erratic. The poly tank has really helped me conserve water to use in the fields. I am already digging another tank in the same field so that I can build a second one. The seeds these people gave are excellent and now my neighbour also wants to join this programme."
Day 3: On the last day of my stay in Mukteshwar, I was taken to TRISHA- TERI's Research Initiative at Supi for Himalayan Advancement. This centre is home to the soil testing unit, some greenhouses, a packaging unit and a community radio unit. Currently, outputs from the poly-lined house are being compared to that from the passive solar greenhouse over a period of six months.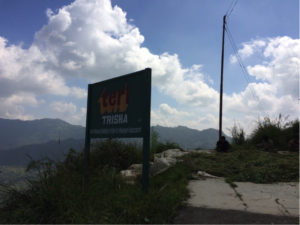 The soil testing initiative (picture below) attempted to give information to farmers about nutrients present/not present in the soil sample provided by them. They are then given training sessions to assess the amount of fertilisers that should be used based on the nutrient quality. This work is mostly done during the winter months, when agricultural work is off season.
The visit to Mukteshwar was also a journey of great personal significance. I realise that three days are not enough to understand the context or make a critical overview of the project. However, it did give me a chance to reflect on some issues relating to the farming community in India. Increasing rates of farmer suicides, withdrawal of subsidies and lack of access to financial resources are only some of the problems affecting farmers today. Field supervisor Preetam had very graciously invited all of us to his house for a traditional Kumaoni lunch. His elderly father was ruminating about the difficulty of raising a new generation through farming. He said he had urged his elder son to move with this family to Dehradun, the capital city of Uttarakhand, where opportunities for education and employment would be better. Increasingly, the youth are being encouraged to get professional degrees and take up service sector jobs as agriculture is no longer seen as a stable source of income. These issues also speak to larger issues of rural development, urbanisation and inequality in developing countries. In this scheme of things, the LDF project makes some important contributions to provide security to the farmers and make agriculture a sustainable practice. I am keen to make a second, preferably longer visit to witness the project in its second phase of consolidation and expansion.
I would like to thank the team at the Louis Dreyfus Foundation, TERI and the Weidenfeld-Hoffmann trust for making this visit possible. As an aspiring development sector professional, it has been a greatly enriching experience for me.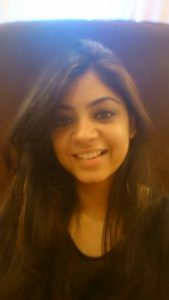 Payaswini Tailor (2016-18, MPhil Political Theory) is an Oxford-Weidenfeld and Hoffmann-Rausing Scholar.