With the support from the WHT I could develop my MSc dissertation fieldwork in South Africa.
The purpose of my study was to research how to implement photography to current aerial monitoring methods to get more detailed information (e.g. sex, age, and other demographics) from wildlife surveys, using Cape buffalo as a case study.
During the two months that I spent at the Southern African Wildlife College, the organisation I was collaborating with, aside from doing my research as part of my course's requirements I had the opportunity to fly over the African bush on a light sport aircraft, which gives you a whole different perspective on the animals that live in the bush and how vast the landscape is.
Additionally, I also had the opportunity to participate in the notching of a baby rhino – which is the process of 'marking' a rhino on their ears to be able to identify them and make it easier to fight poaching by putting microchips on their horn and necks, and allows for a more in depth knowledge of rhino's demographics.
Additionally, I have been able to be with elephants on foot – which is a whole different and incredible experience! and have been fortunate enough to see wild dogs – which are highly endangered, hear hyenas every night and lions roaring, wake up to a herd of impalas right next to the fence where my tent faces, see incredible sunsets every day, and have nights full of stars! And of course, all the African animals that you get to see while being in the bush (even a Leopard feeding on a tree!) is just something I will carry with me for the rest of my life. It has been a unique and incredible experience and has allowed me to put into practice what I have learned during my studies and see more 'conservation in action', as well as learn so many more things about people and conservation, the pressing issues some species such as rhino are facing, and how to design a research project from scratch. I got the opportunity to meet some amazing people during my time there that I will remember forever, and hopefully meet up with them again in the future.
I successfully ended my fieldwork and now I'm in the process of writing my dissertation which I will hand in the 1st of September. What I wanted to gain from my MSc thesis was to have more fieldwork experience and expand on my conservation knowledge, which I certainly did! And now I have a better understanding on conservation on the ground and have new skills that will certainly help me for my future career.
This year went by very quick, and I can confidently that it was a wonderful experience, possibly one of the best years of my life and most of what I lived here in Oxford and with my fieldwork in Africa I owe it to the generous help of the WHT, which were like a family away from home. I will be forever grateful for the grand opportunity it was handed to me by the WHT! And strive from now on to help as best as I can for the conservation of our world – our biodiversity, and species, so future generations get to see what in my short life I have been so lucky to experience.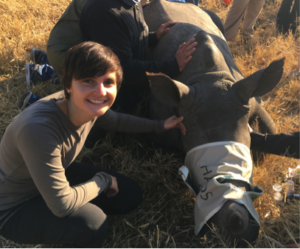 Carolina Torres (Colombia, Biodiversity, Conservation and Management) is a Louis Dreyfus Scholar