One year after graduating from the MSc in Law and Finance, WHT alumna Nidhi Singh (Louis Dreyfus-Weidenfeld and Hoffmann, 2015-16) reflects on her experiences since leaving Oxford, both professionally as she starts her legal career, and personally.
'The woods are lovely, dark and deep. But I have promises to keep, and miles to go before I sleep.'
                                                                              – Robert Frost
Some people say that once you shift to a new place and a different country altogether, you tend to take some time to settle in. In my case, when I moved to Oxford in 2015 to pursue MSc Law and Finance as a Louis Dreyfus-Weidenfeld and Hoffmann Scholar, I rather took less time to absorb Oxford than the time I took after I left that place last year in 2016 to settle back in India. Oxford is beauty. Oxford is revelation. Oxford is knowledge. Oxford ushers in new life. Oxford and Weidenfeld has made me what I am today. Coming from a humble background and a decent schooling and college in India, I entered Oxford with a lot of expectations. Both life and Oxford did not fail me in my expectations after I left that place. Post my return, I could see the change in my personality, my level of knowledge, understanding, comprehension and application both in my vocation and avocation.
I had a brilliant ride and high in terms of career and attitude towards life after Oxford. Before I elaborate on career, I feel it is more important to emphasize on the health aspects of my life. Oxford made me very health conscious as I saw people running even at odd hours at night. It truly encouraged me to believe that if you want to do something in life you need not follow a stereotypical routine as set by the cultural norms of our society. You just need to understand this at a deeper level. I demolished all my doubts and fears and took to running whenever I found time, even if it was 11 at night. I pushed my limits everyday and I saw the change in my perspective towards life. I continued this pattern of life even after coming back to India. I have experienced a new life as a whole. After training for about one and half years consistently, I have become fitter to the extent that I am ready to run my first Half Marathon (approx. 21 kms) next month. Thanks to Oxford.
I believe you learn more on the sports field or running track and from your peer group than what you learn from the books as a whole. This attitude made me more courageous and wise to appreciate the importance of having friends in life. The Weidenfeld seminars and the number of networking events that I attended in Oxford made me more open towards meeting new people, understanding different cultures and diversity of talent across the world. Seeing the entrepreneurial spirit amongst youth in the U.K., I mustered courage to take a bold step and choice for my career. Declining some lucrative job offers in London, I moved back to India to start on my own with my private practice. I started this firm-BlackPearl Chambers (Advocates & Solicitors) along with four other friends of mine. Shunning the luxury of fat pay package of law firms in India was one of the difficult decisions of my life but my determination to take up to litigation work on my own was something I have always wanted to experience. Though, it might be too early to comment, however I have managed to prove my decision right to myself as work has started to flow in and everyday has been a new and beautiful working experience. Everyday I go to the lower courts or the higher courts in Delhi to get the best version of myself polishing my legal acumen and trying to establish myself as a young budding ambitious lawyer at the Delhi Bar Association.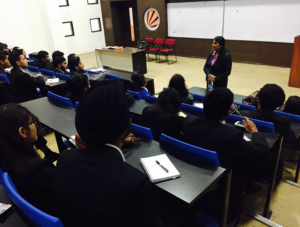 Nidhi delivering a guest lecture at Lovely Professional University, Punjab
I love everything about my work. Oxford made me more hard working and most importantly taught me to enjoy my work. This is the reason why I must have not given up on a single day or questioned my decision to take up to litigation even once so far while arguing for my clients and cases in the courts of Delhi. I did realise that my stay at Oxford was quite a luxury owing to the benevolence and generosity of the Weidenfeld Scholarships and Leadership Programme, however the transition to a harder life was not so easy.
I determined to pursue my further education and other academic activities along with my court work in Delhi. I started off by first presenting a paper on Sustainable Development Goals while studying the work of an NGO in India-Kalinga Institute of Social Sciences (Odisha) which provides free education to around 27,000 indigenous tribes of that state. This paper was written as a part of my pro-bono work of the Weidenfeld Scholarships Programme. I converted this to a research paper and presented this work at Columbia University in New York, September 2016. It wouldn't have been possible without their support. This paper is now published on the website of Columbia University and a Journal on Sustainable Development (February 2017).
Moving on from here, I presented a paper along with my colleague at University of Cambridge, U.K. on 'Shareholder primacy and Corporate Governance in U.K.' in October 2016. The organisers reviewed our paper and it was one of the few papers selected and now published in their Journal of International Legal and Interdisciplinary studies (May 2017 Issue). I wrote a column or an open page article on my Oxford experience in one of the leading newspapers of India-The Hindu, which has a nation-wide circulation, in November 2016. This article was well appreciated and I also received many congratulatory emails from all over India.
I also enrolled for a Diploma in International Trade Law and Business Law from Indian Society of International law, Delhi where I scored the highest possible grades in 2017. I simultaneously enrolled for an M.A. in Economics given the nature of my work in Competition law-the area that I primarily practice in Delhi. This has all helped me stretching my limits everyday and every moment. I have learnt to create opportunities during the times when I have faced crisis in life and I think Oxford inculcated in me the courage and wisdom to deal with uncertainties in life.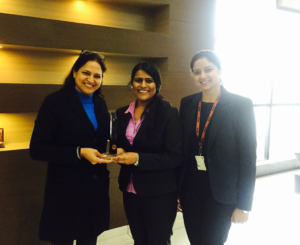 Nidhi being felicitated by the Vice-Chancellor of Lovely Professional University, Punjab.
I started off my New Years' 2017 with great enthusiasm as most of hard work post Oxford was bearing its fruits and it has continued everyday till today while I am writing my experiences for the Weidenfeld Blog now. I received my first Chapter publication in a Book on Competition Law. This chapter is on 'Predatory Pricing in United States, European Union and India: Lessons for Competition Commission of India'. One of the most distinct experiences of my life was when I was invited to deliver a guest lecture at an Indian Law University named Lovely Professional University in Punjab. This was my first guest lecture where I interacted with around 300 law students and addressed them on 'Law and Economics of Corporate Transactions'. This was one day when I returned to my room feeling extremely empowered and realizing one of my dreams to give back whatever I have learnt from society. I have always wanted to do something for my surroundings as I feel many people have helped me reach where I am today and I cherish that immense pleasure which I get when I can selflessly guide young law students.
In February, 2017, I presented a paper on 'Financial Crisis and the credibility of Efficient Market Theory' at the Annual Public Policy Conference of St. Xaviers' College, Mumbai. This paper is now scheduled for publication in the 2nd Issue of NITI Samvaad Journal (2018). I was also selected to present a paper on 'Corporate Governance in the U.K'. at Griffith Law School, Brisbane as a part of the initiative of Governance Institute of Australia.
In March and April, 2017, I published two papers in the leading blogs of the U.K. The first one was among the best entries to be published on the Oxford Policy Blog. The paper was on WTO and Agricultural Negotiations. The second paper was on 'Competition Law and Agriculture in the EU' which was published by Kings College London. I feel these publications and presentations post Oxford were a high point of my career.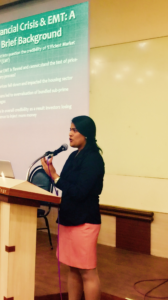 Nidhi while giving a presentation in Griffith Law School, Australia
Oxford has taught me to be more giving in attitude. Since my return, I have guided so many students and working professionals on how to write successful SOPs and scholarship essays. For the first time in life, I experienced the joy of helping couple of students get through Oxford and even to the Weidenfeld Scholarships Programme. This experience has given me immense confidence on my capabilities to guide so many people. Lifting up people along with yourself as you rise higher in life is the best return you can give back to society and this joy is unparalleled to any of the happiness I have achieved so far.
Last month, in June 2017, I presented a paper on 'Trade and Development in Asia Pacific region: Recent trends and developments' at the Australian National University (ANU), Canberra on a full scholarship from ANU Asia Pacific College. Having the privilege of being top 10 delegates to present their work and that too on a full scholarship is something I feel was due to my skills I learnt through my Oxford education. I stayed for around 15 days in Australia exploring Canberra and Sydney. Thanks to the generosity of Australian National University. I travelled all this while to Kuala Lumpur, Malaysia, Singapore and few other countries trying to unwind myself for a fresh start to the latter half of 2017.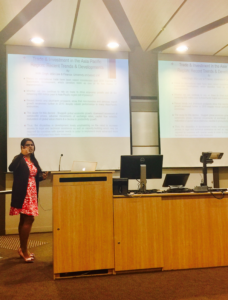 Nidhi while presenting on 'Trade and Development' at Australian National University, Canberra, Australia.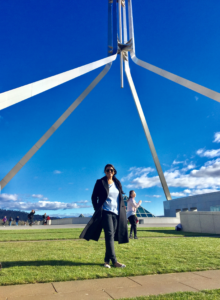 Nidhi at the Australian Parliament, Canberra
Recently, I published on 'The Constitutional Conundrum of Right to Privacy in India' on the website of Oxford Human Rights Hub of Faculty of Law, University of Oxford in August 2017. I have presentations lined up in Chicago and Tokyo this year and with lot of litigation work in Delhi, however there is something that keeps me going everyday. I don't miss Oxford because I carry the Oxford culture and values in my work everyday when I interact with my clients in the court. I strongly believe that I have been able to do all this because of the support of Weidenfeld Scholarship team who has always encouraged me and it was for their financial support that I was able to take up so many risks in life. At the end of the day, as I write this post looking out from my window in Kuala Lumpur, Malaysia, I feel I still have lots to do and lot to learn. There are days when too many difficulties arise but the academic rigor of Oxford that I went through has made me strong and brave to overcome both professional and personal hurdles of life. The key to success is immense patience, focus, courage to act on your dreams and the determination to never give up in life. Oxford has helped me discover these traits in my personality. Exercising my resilience muscle each day, I have become determined to live up to the Oxford expectations of a scholar and be a global shaper one day.
If there has to be one key learning that I have taken from my Oxford journey and implemented in my life post the Weidenfeld Leadership training programme, it is:
You will never change your life until you change something you do daily. The secret of your success is found in your daily routine.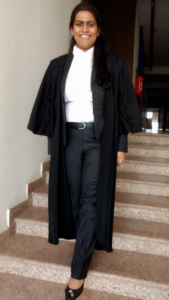 Nidhi Singh is an alumna of University of Oxford, Faculty of Law. She pursued her MSc in Law and Finance as a Louis-Dreyfus Weidenfeld-Hoffmann Scholar 2015-2016. She is currently practicing as an Advocate in Delhi.